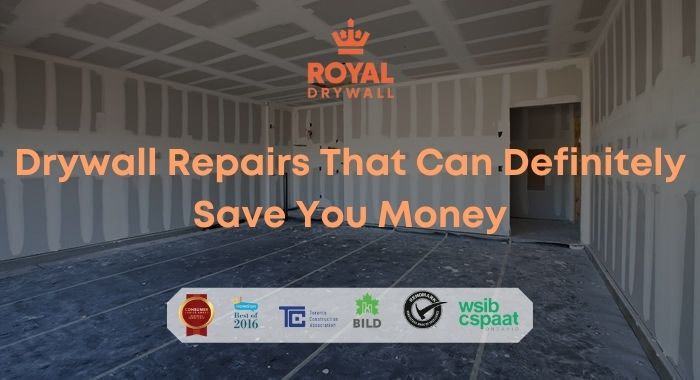 Saving money in the long run can be accomplished by a variety of home improvements. Repairing drywall is at the top of the list. How come? Home interiors are mostly drywalled. Children and pets are in every household, and accidents happen every day.
When it comes to any project, one needs to take one step at a time. As it turns out, our aim is to take care of smaller problems in order to prevent larger ones.
Having Your Drywall Repaired Is a Good Idea
Home improvement, maintenance, or repairs are one of the biggest chapters in everyone's life. There are a number of things you can do now to avoid problems in the future, beginning with a roof inspection and working your way up to plumbing repairs and insulation installation by a professional drywall contractor in Toronto.
Is there any connection between all of these things and drywall repair, you ask? That's right. Because damaged roofs and problems with drainage will damage your drywall.
We will therefore begin at this point, talking about how important it is to maintain your home.
Sometimes, you need to make a short-term investment to save a long-term one – for example, with emergency drywall repair, mold infestation, high energy bills, etc.
Make Small Drywall Repairs Today to Avoid Major Problems Tomorrow
Maintain your home by paying attention to areas such as cracks in the ceiling, damaged corners, etc. Damage can sometimes be more complex than "I scratched the wall by carrying a chair".
Paint and compound may not be sufficient to fill in cracks. The best thing to do is to determine the cause of a problem. Especially if you are dealing with ceiling cracks, an experienced drywall contractor would be needed.
Drywall Repair Services Aren't Just About Saving Money
Well, alternatively, you can patch things up as you go. Are there any common problems with drywall? Chips with corners. Holes become larger as they get smaller.
Tape is removed. Other times, problems arise on their own. There's nothing worse than having to replace an electrical outlet and cutting drywall at the same time. Doing all repairs on time and right will save you money.
Even though it may seem tempting to leave drywall and painting services for tomorrow, it's not a good idea. Even a small nail hole in your house will only reflect negatively on your home's aesthetics.
Tape problems, however, could be caused by a wall that's not stable. No sooner than a few months from now. Infestations of mold can adversely affect your health. Therefore, money can be saved in so many other ways.
Remember, as far as your budget is concerned, that you won't be charged much for patching up a few holes here and there.
It should be noted, however, that service costs will increase according to the size of the hole. Do not ignore a ceiling crack when you see one the next time!
That's when Royaldrywall® comes to play, it's one of the leading drywall contractors in Toronto. Offering a complete line of drywall installation, taping, and finishing services in Canada.
The experienced professionals in Royaldrywall are skilled and well trained, able to take any big or small project, including repairing drywall holes of any size. They can make it look as if the hole was never there and can seamlessly blend in a new section of drywall or finish over an existing dry wall to get rid of "popcorn" ceilings.
For a full list of premium services that Drywallaid provides, kindly visit the services page, fill out the form here, or simply call 647-933-4402 to ask any questions you have about an upcoming project or to get a FREE estimate!