SOUNDPROOFING OF BEDROOMS!
To prevent noise from your lovely neighbors and a busy street entering your house or escaping to another room – Soundproofing is the best option.
Do you have a room that needs some special attention for soundproofing or you're building your house from the scratch and planning which walls, floors and ceilings need to be soundproof? We bet you're planning on placing wood or steel studs filled with Roxul safe and sound batting, MLV sheeting on the steel studs and double 5/8 drywall with green glue in between. Sounds complicated and expensive. But what if we tell you, that there is a NEW, CHEAPER and EASIER WAY to soundproof. Yes, it exists!
RefleXor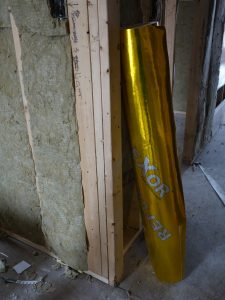 RefleXor, is a thermo-acoustic membrane made from 100% recycled polyester fibres laminated to a metallic film. Its membrane has a thickness of 0.039" and it comes in roll sizes 4' x 50'. The RefleXor, which is light and easy to handle, offers a continuous and effective sound barrier that will help the soundproofing process.
To install it you will simply need to apply the RefleXor membrane on the first layer of drywall using T50 (or similar) staples leaving a 4" overlap at the floor, at the ceiling and at any other seam, with the gold side facing the inside of the room. Then install the second layer of drywall conventionally, once the gold RefleXor membrane is in place and it's done, no acoustic sealant is needed! This innovative wall and ceiling system, which combine RefleXor, minimize the complexities of soundproofing while offering superior results.
RefleXor is also a strong vapour barrier with unparalleled soundproofing properties, as well as a barrier against the transmission of odours, carbon monoxide, smoke and the development of mould.
Sounds good to believe and need more information about this magical material, visit http://www.mslfibre.com/Produits/Fiche/4/RefleXor, there you can find more materials how to properly install and order it.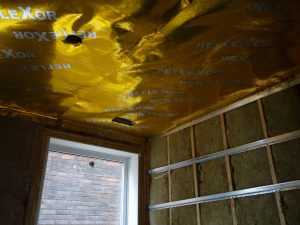 We've worked with The RefleXor at our last project and can confidently say, that RefleXor is the perfect solution for any interior wall structure, ceiling, or interior partition for all soundproofing and vapour barrier needs. It is definitely the future of a better and easier soundproofing.
If you are a homeowner and not sure how to handle it by yourself, you can always call or email us and we will provide you with a free of charge quote, and install it for you.